Main content starts here, tab to start navigating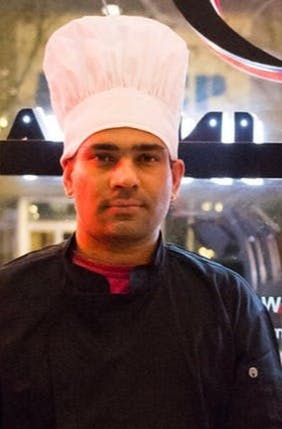 SANDEEP SINGH
Executive Chef, Partner
Chef Sandeep Singh grew up being influenced by the exotic spices of Northern India that filled the air of his childhood home. His family farmhouse grew organic vegetables and wheat, rice and turmeric. In his backyard his grandmother used to grow ginger, garlic, onion and other vegetables. In his family kitchen he observed lessons on utilizing every part of an ingredient and spice.
Before Chef Sandeep Singh came to the US he had some experience in North Indian restaurants in Punjab, India. Chef Sandeep has been working with Chaat Bhavan and Mantra India for over ten years and he specializes in both vegetarian and non-vegetarian food and he has created a number of unique recipes and is experienced in handling catering events involving more than 5000 people. He motivates and trains the kitchen staff to perform to the best of their abilities. He observes food preparation and production, ensuring that the food safety procedures are always adhered to.
The skill he gained at Chaat Bhavan and Mantra India allowed him to make his jump to head chef and partner. Every meal he creates provides not only excellent taste but also nourishment for the mind and body.